Menu Plan Monday
with
Homespun Kitchen
I have been better about doing my meal planning and prepping again, I hadn't done it for a few weeks and felt like I was going crazy! I am excited for this week because the Fourth of July is my second favorite holiday! I love the colors, the food, the festivals, parades, everything. It probably helps that Brad proposed to me on this day 19 years ago, awwwww.
Our town has a huge church festival that starts on the 3rd, they have beer gardens, food, games for the kids, a big concert and then a parade and the same festivities on the 4th.
I have some fun things planned for this week!
Tuesday:
"Flag" pizza, today is going to be our craft day and I am incorporating some fun 4th foods too! Something like
this
...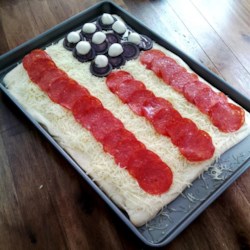 Thursday: Meatloaf, mashed potatoes
Friday: We are going to a couple July 4th parties, so we'll be snacking all evening!