I have every Tuesday off and yesterday was the first day in months that I actually had NOTHING planned. No meetings, no appointments (well actually I did have a massage planned but she had to reschedule), just an entire day to get some spring cleaning done. And clean I did!
Here's a low down of what I accomplished by 3:30:
*Did all the laundry including sheets, rugs, curtains and throw blankets.
*Vacuumed upstairs and downstairs.
*Thoroughly cleaned all three bathrooms including scrubbing bathtubs, washed walls and vents.
*Thoroughly cleaned our bedroom, moved furniture to vacuum, dusted every nook and cranny.
*Dusted above all cabinets in the kitchen and entryway.
*Scrubbed kitchen cupboards and orange cleaned them.
*Scrubbed floors
*Cleaned out the pantry and fridge
*Made supper (I had spaghetti sauce in the freezer already!)
*Worked out
*Made my lunches for the week.
Shew, I was exhausted by last night! It felt SO good to get all my cleaning done! The weather is absolutely gorgeous right now, yesterday was 56, AH-MAZING. Although looking outside, this is what you mostly see...Ugh, it's everywhere.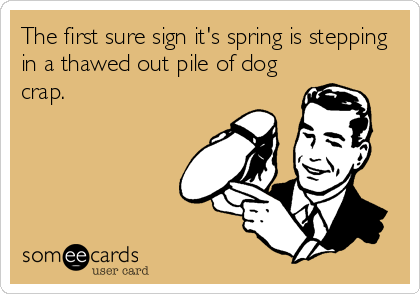 I cannot wait to see how my lilac bushes do this year, they've been slow going so far...
And my obsession, "The First 48". Like I've said before, I'd be a damn good homicide detective, just sayin...